Online Assessment Software
Online Assessment just got easier with our Top-Rated online Assessment Software. Our software's user-friendly and intuitive interface makes it simple to generate, distribute, and analyze student evaluations in just five easy steps.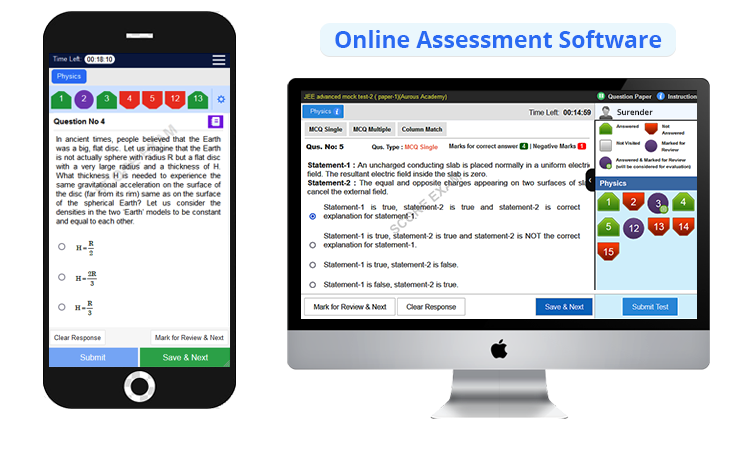 Our best online assessment software comes with a variety of features to meet your unique requirements.
Some of the Top Features of our Best Online Assessment Software.
Test Templates:- ALL Exam Pre-designed templates like IIT Jee mains and Advance, Clat,Neet,Gate, CBSC and other exam formatting.
Test Creation:- Upload questions from your Ms. Word document that include illustrations, diagrams, and mathematical equations.
Customization:- Flexibility for customize online assesment software. For your particular needs, we are ready to make alterations that are tailored.
Question Bank Software:- question bank for storing and managing questions of large pool and categorized by subject, topics, difficulty levels and question type(mcq single, multiple, integer and other).
Automated Grading software:- TThis software provides automatic grading for multiple-choice, integer, matrix match, and true/false questions. This function helps participants save time and receive immediate feedback.
Manual Grading::-Our website has a function that allows you to upload your offline or manual exam grading. keep track of students' exam results and analyses from both online and offline sources.
Subjective Questions Grading:-Capability to manually grade subjective questions, such as essays or short answers, with options for annotations, comments, and rubrics to ensure consistent and fair evaluation.
Data Analysis:-Powerful analytics and reporting capabilities to produce thorough reports and insights from test results. This can include scoring distribution, item analysis, individual and group performance analysis, and trend tracking over time.
Online Proctering:- Strict security controls to safeguard participant data, online assessments, and test integrity. This contains a variety of tools including encryption.
Frequently Asked Questions ?
In Score Exam assessment software, you normally follow four simple steps to create an online assessment. 1. Create an exam, 2. upload/assign questions, 3. Assign to Student 4. Auto Grading and Reports.
The next-generation best online assessment tool for educators is also known as ScoreExam. ScoreExam facilitates the entire assessment process, from test creation to result analysis, making it a comprehensive solution for online assessments.
The ScoreExam evaluation software makes it simple to evaluate students online. Create tests, upload them, or give students questions from the question bank to answer.
Yes, creating exams online is far easier than conducting offline exams. bulk upload questions from ms world files and question reusability from question bank software make it easier to use. It is also economical.